Roll over image to zoom in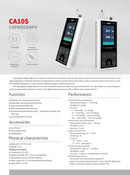 Description
Introduction
Capnograph adopts sidestream method to measure the end-tidal carbon dioxide, airway respiration rate and other parameters. It can detect pulmonary ventilation function and reflect the circulation and pulmonary blood flow as well as indirectly reflect the alveolar ventilation standard. Meanwhile, it can also detect the blood oxygen saturation and pulse.
The Capnograph is applicable for use in pre-hospital emergency transfer, emergency department, ICU, operating room, neonatology, respiratory department and other occasions. The application population is adult, pediatric and neonate patients.

Features
End-tidal CO2 measurement function
Respiration rate measurement function
SpO2measurement function
Pulserate measurement function
Over-limit alarm function for EtCO2、Respiration rate,SpO2and Pulse rate
Low battery alarm function
Performance
End-tidal CO2 measurement:
Measurement range: 0 ~150mmHg
Resolution: 1mmHg
Accuracy:
0~40 mmHg:±2 mmHg
41~70 mmHg:±5% of readings
71~100 mmHg:±8% of readings
101~150 mmHg:±10% of readings
Respiration rate measurement:
Measurement range: 2rpm~120rbpm
Resolution: 1rpm
Accuracy: ±1rpm
SpO2measurement:
Measurement range: 30~100 %
Resolution: 1%
Accuracy:
               70~100 %:2 %
               0 ~ 69 %:undefinition
Pulserate measurement:
Measurement range: 25~250 bpm
Resolution: 1bpm
Accuracy: ±2 bpmor ±2%,whichever is greater
Safety characteristic:
Device type: internally powered equipment
Degree of protection against electric shock: type BF applied part
Degree of protection against ingress of liquid: IPX1
Accessories
User Manual
Blood oxygen probe
Sampling pipe
Physical Characteristic
Dimension: 159*72*31 mm
Weight: 270 g
Working environment
Temperature: 5℃~40℃
Relative humidity: 30%~ 75%, no condensation
Atmospheric pressure: 700hPa~1060hPa
Power supply: DC 3.7V (rechargeable lithium battries)
Input power: ≤1.5VA
Payment & Security
Your payment information is processed securely. We do not store credit card details nor have access to your credit card information.