Roll over image to zoom in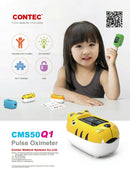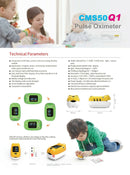 Description
Introduction
The Pulse Oximeter can be used in measuring the pulse oxygen saturation and pulse rate through finger.The product is fit for family, hospital, oxygen bar, community healthcare, physical care in sports (It can be used before or after doing sports and it is not recommended to use the device during the process of having sport) and etc.
Major Features
1)SpO2 value display
2)Pulse rate value display, bar graph display
3)Pulse waveform display
4)The display mode can be changed
5)Screen brightness can be changed
6)Low-voltage indication: low-voltage indicator appears before working abnormally which is due to low-voltage、Automatically power off function: when the device is under the state of measuring interface . it will automatically power off within 5 seconds if the finger falls out of probe
Main performance
1) Display Mode:160*80
2) SpO2 Measuring Range:0%~100%, (the resolution is 1%).
   Accuracy:70%~100%:±2% ,Below 70% unspecified.
3) PR Measuring Range:30bpm~250bpm, (the resolution is 1bpm)
   Accuracy:±2bpm or ±2% (select larger)
4) Measurement Performance in Weak Filling Condition:SpO2 and pulse rate can be shown correctly when pulse-filling ratio is 0.4%. SpO2 error is ±4%, pulse rate error is ±2 bpm or ±2% (select larger).
5) Resistance to surrounding light: The deviation between the value measured in the condition of man-made light or indoor natural light and that of darkroom is less than ±1%
6) Power Consumption:less than 30mA
7) Voltage: DC 2.6V - 3.6V
8) Power Supply:1.5V (AAA size) alkaline batteries × 2   
9) Battery working hour: Two batteries can work continually for 20 hours,The theoretical number is 36 hours
10) Safety Type:Interior Battery,BF Type
Accessories
1)a hanging rope(optional)
2)a user manual
3)cartoon stickers
Physical Identity
Dimension: 59(L) × 37(W) × 35(H) mm
Weight:About 50g (with the batteries)
Payment & Security
Your payment information is processed securely. We do not store credit card details nor have access to your credit card information.